Introduction:
I have been a teacher for 7 years. The first 4 years of my teaching career, I was an Early Childhood teacher, primarily with Preschool and Pre-Kindergarten students. After receiving my Initial Licensure in Moderate Disabilities, I began working at a therapeutic day school for students with behavioral, social/emotional, and neurological disabilities. At this school, I have worked with students grades 2nd - 6th. My current classroom consists of 3rd and 4th graders. I always knew I wanted to be a special educator, and I am so glad I found my calling in life! I don't know how many others (other than teachers!) can say that.
Best Tip for Management:
Consistency and routines! I can't stress enough how beneficial consistent expectations and predictable routines are to a functioning, manageable classroom, especially for students with disabilities. I have routines for every single part of the school day, starting with our morning routine, and ending with our dismissal routine. We have set routines for our transitions throughout the day, and have clear, consistent rules and expectations we expect students to follow. Allowing for some predictability throughout the school day makes my life as an educator easier to manage, and helps my students succeed, both behaviorally and academically.
Must Have School Supply:
Velcro! Couldn't survive without it!

Blogs I follow (and you might want to as well ;)
http://clutterfreeclassroom.blogspot.com

http://www.technologytailgate.com

http://helloliteracy.blogspot.com

http://www.ladybugsteacherfiles.com

http://autismtank.blogspot.com

http://littlemissorganized.blogspot.com

http://thebrownbagteacher.blogspot.com

How to stay organized?Organization has always been a personal struggle for me. I have my own executive functioning challenges, so this is constantly on my mind. However, because of my own disability, I want to be able to support my learners to succeed in this area. I am highly motivated by ensuring my kids get the skills they need to improve their own executive functioning challenges (which ALL of my students suffer from). As a student, I was not given this level of support, and I struggle every day in my own life.
That being said, I am always looking for the best way to organize my life. I still have not found a fool-proof system, but I am working on it. I take advice from colleagues, fellow bloggers, and experts on organization, and tweak as I see fit. For example, I know that I need a place for everything. Everything in my classroom has a place and a label. This is not only beneficial to me, but especially to my kids. This also helps students with independence. I need to schedule times after school for me to put everything away, file all my papers, and clean up the room. Otherwise, things get out of hand quickly.
The system I am currently using for my lesson plans and basic teaching materials is an accordian folder/binder combo. I keep my daily plans in my accordion folder, organized by the subject and then put into subcategories by day. I then attach my weekly plan to my binder portion. Inside my binder are my unit plans, standards I am working on, my unit calendar, assessments, checklists, future plans/ideas, etc. So far, this system is working for me, but I do still need to remind myself to use it. Hopefully it will become second nature sooner!
My advice to you: keep at it. Find what works for you. This may take a while, especially if you don't have a large organizational tool box. Listen to strategies from others, but tweak it so its most helpful for YOU! My teaching mentor keeps reminding me that it took her years to figure out the best system for her (and I tried her system...didn't work for me!). Have patience, but keep trying. You will get there :)

Stress Management Advice:
Exercise, eat right, get enough sleep. Oh yes, and take your work home with you! I know this seems counterintuitive, but it doesn't make any sense to pretend that you don't. When I say take your work home, I don't mean your lessons. I'm talking about all that emotional stress that comes with being a teacher. For me, working at a school for students with trauma and behavioral difficulties, coming home and crying due to stress or sadness is just a day in the life. I have seen my own kids injury themselves, relieve their traumatic experiences, and have such severe, unmanageable behaviors that they have been hospitalized right from my school. I would be lying to you if I said I just left those feelings at work. It is not natural.
You need to find a support group of listeners, so that, when you inevitably come home in tears, whether it be due to a scary restraint you witness/were a part of, a really stressful interaction with a parent, or a lesson that didn't go as planned, you have people to fall back on, to cry to, to talk to. If you don't, you will keep all of those tough and stressful feelings inside, and that is no good for anyone!
Interview Tip:
Come prepared -- with questions! Of course you need to do your research. Look at the school/center's website, find any articles that reference the school, and learn about the community involvement. However, what really stands you out above the crowd, are the questions you ask. Maybe the school boasts about technology in the school. Ask about what specifically they use, do they encourage teachers to use technology, how do they feel about incorporating social media in the classroom, etc. Maybe you don't know a whole lot about how to incorporate technology into your classroom. Ask about opportunities for professional development related to incorporating technology into your class. Specifically ask questions as they relate to YOUR interests. Also, I suggest asking questions that relate to you being at the school for a long time. For example, ask about opportunities to move up in the school.
Advice for first year of Teaching:
I wish I knew that it doesn't get easier. I know that's not a popular thought, but it's true. The teaching doesn't get easier, the organizing doesn't get easier, the stress doesn't get easier -- you just get better. But even that takes a long time to achieve. Like I said before, I'm STILL struggling to find the best method for organizing. I STILL work very long hours at work, and still come home and do more work. I am better able to teach on my feet now, but that came with many years of putting the time and effort in to making quality lessons (I still put many, many hours into my lesson planning...but if something doesn't go as planned, at least I have my teaching instincts to fall back on!).
Links if you want to see more of Rae: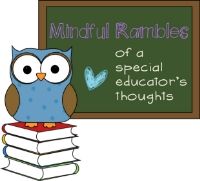 http://www.teacherspayteachers.com/Store/Rae-Ann
http://www.teachersnotebook.com/shop/RSchauer
https://twitter.com/mindfulrambles
Thanks Rae- some really great tips! Remember to click the link at the top if you want to be featured :)