First,
Grade One Doodle Bugs
is having a Giveaway and she has some awesome stuff!! So go check her out and enter!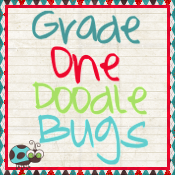 Observing today, the class was working on All About Books. They were writing about topics they were experts in! Some of their topics and sentences were absolutely hilarious. :)
One student wrote her all about book on "being a sister." (She's a twin....so I find this funny/ironic)
Many of the books were about pets or sports but another was all about myself (I found it cute)
The students had to create a cover page, table of contents, and 5 "chapters/pages" and illustrate those pages. They worked so hard, I know they are proud of what they accomplish and I just love that they get the opportunity to have a writer's workshop everyday!!!
The teacher gives them awhile to work and usually conferences with a group of students everyday about their writing.
They will get an opportunity to share their completed work when it is finished, and I know they are dying too. :)
I have some more freebies (!) I'm working on keep a look out soon!