Clothes packed, nails painted...feeling productive! Now only if my headache would go away :(
Not ready for Spring Break to end! Thought I'd share this amazing website I found! Well its a blog really....BUT ITS AMAZING! Basically my whole Kid's Crafts (ideas for camp) is devoted to it! By the way..if you aren't following me on Pinterest you should!
So onto this amazing website....E IS FOR EXPLORE!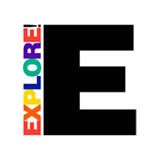 I have found a TON of science ideas!!!! But they have ideas for other subjects as well, all in one place!!! It is worth checking out for sure! Whether you are looking for activities for kids or new exciting ways to introduce material in your classroom, I'm telling ya there is something for everyone!
By the way: I'm in no way compensated or anything like that for this....I JUST LOVE IT THAT MUCH!!!!
So I thought I'd end the weekend with a "kid-ism" one of my kids said the other day (just in case you might need a laugh)
(talking about glasses)...."Ya, I think I might need glasses too, when I close my eyes....my vision goes black." In that case, I think everyone might need glasses. Tee-hee :)
I Love "kid-isms" they crack me up!!! Hope your weekend ends well! I'm off to do more planning.