First, I am linking up with Farley at
Oh' Boy 4th Grade
for Currently....my first one! How fun- I loved creating it.
Second, my presentation is over- and it went well! Thank goodness- thanks for all the good vibes guys, they definitely helped!
Third- being a new blogger and all, I've been just roaming around trying to find tutorials to make my blog cool and awesome so I thought I would share some with you.
Check out this
website
to get cool multi-colored font if you hover over my blog titles or titles of blog on the side! If you didn't know I love rainbows so this is perfect if you ask me!!!!
Also, Ladybug Teacher Files has some amazing tutorials for anything from threaded comments....to so much else. Click her button below to check it out for yourself.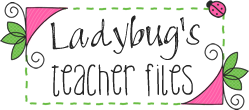 Finally, The 3am Teacher just posted about the cool heart sharing thingie (for lack of better words)
CHECK THE LEFT BOTTOM CORNER OF MY BLOG!
I would love for you to test it out by sharing something of mine :)
I'll keep you updated on any awesome tutorials I find, peek around my blog and ask any questions as well. As a newbie blogger, I'm just trying to figure it all out myself :)