I feel like getting two awards today is awesome...especially after the day I had. Car doesn't start, never enough sleep...but oh well.
I forgot to mention I also forgot the wax paper when ironing those weird plastic bead things and...
this is what happens....sadly. So I got to spend my recess peeling off the beads :(
But, alas, there was some good in today as well:
1) I got 11 hard back awesome kids books for $9 at the awesome annual used book sale! Always makes my day and the kids even previewed them today. The book on snakes was a huge hit since we talked about spitting cobras yesterday!+ garage sales start tomorrow (so many books!!!! and so cheap!!! LOVE!!!!)
2) March Madness starts today-YAY! We have a family pool every year. I love picking teams, it's always fun to watch and see who wins :)
Onto awards:
1) the Giver Award from the
3am teacher
She gave it to all her follower-- AWESOME! It even features some of her new ABSOLUTELY FREAKING ADORABLE PUDGIES CLIPART ANIMALS - Are they not adorable? Honestly, that's why I typed it in all caps!
This is a new blog and let me tell you - I've already found some great freebies and awesome advice- so go check her out....as in like right now!!!
Here's some awesome people I'm passing the award onto!
1. Cheers to school
A great blog from an awesome recent graduate!
2. Primary Princesses
Fantastic and super cute blog written by 2 amazing teacher! TONS of great ideas!
3. Mrs. McCumbee's Class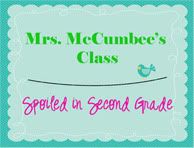 Super fun blog with really applicable advice! Check her out!