So I'm exhausted after just getting back from my trip (if you were wondering where I was ;) so I'm just quickly going to post about some giveaways from some awesome bloggers!!!!
First, the Crazy Adventures of a University Graduate - such an awesome blog!!! Love reading everything she has to say...so helpful!!! She is up to 50 followers...go check her out!!!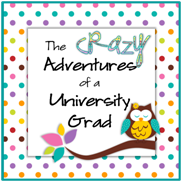 Second, Kindergarten Kel is also having a giveaway with some great stuff and I'm one of her new followers but have found some great stuff so far...so show some bloggy love and go check her out as well :)
I promise to be back and post more soon....now to catch up on all the work I missed last week :(
Thanks for all the tips on flying (much appreciated) Happy to say I'm back safely on the ground!